And I really wish I was back on the ship. Life is so much easier when you are on a cruise ship. No cares. No worries. Just having fun and relaxing. I can't even begin to say how much I enjoyed the trip. It was truly something that had to be experienced. Here is my trip in a quick pictorial:
Our first meeting. It was like seeing family again. :)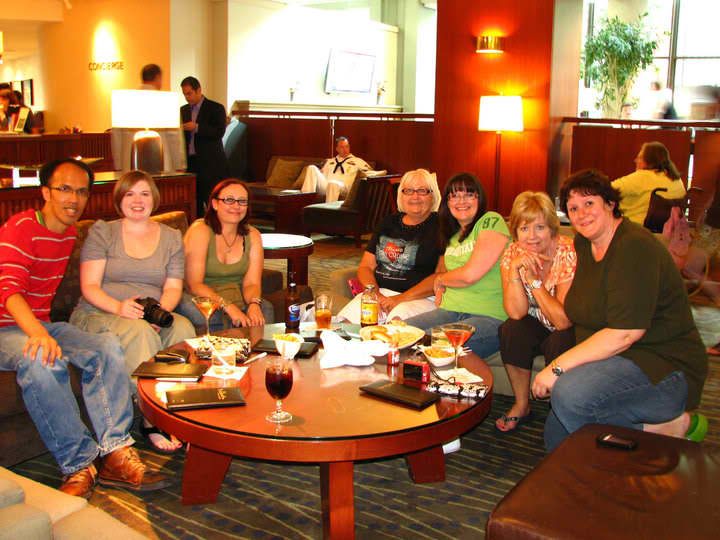 Welcome to Forks!!!
Forks Police car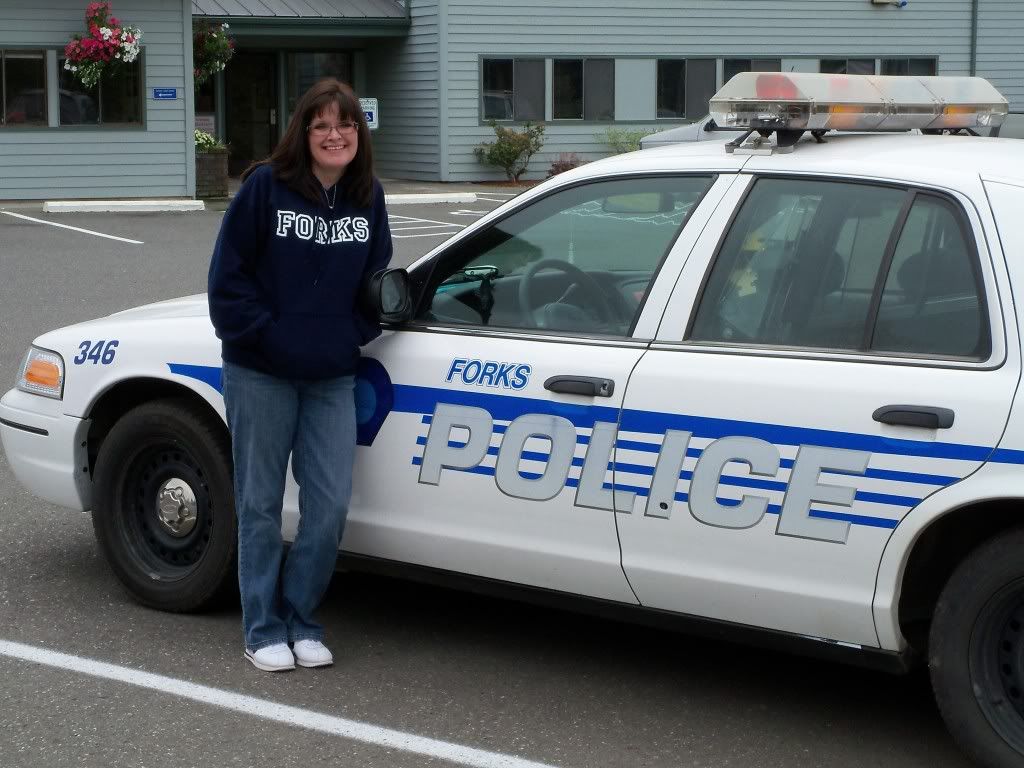 What is left of Forks High School. I got lucky and there was a contractor giving a couple of girls a brick from the school. Yes...I got a brick also. :)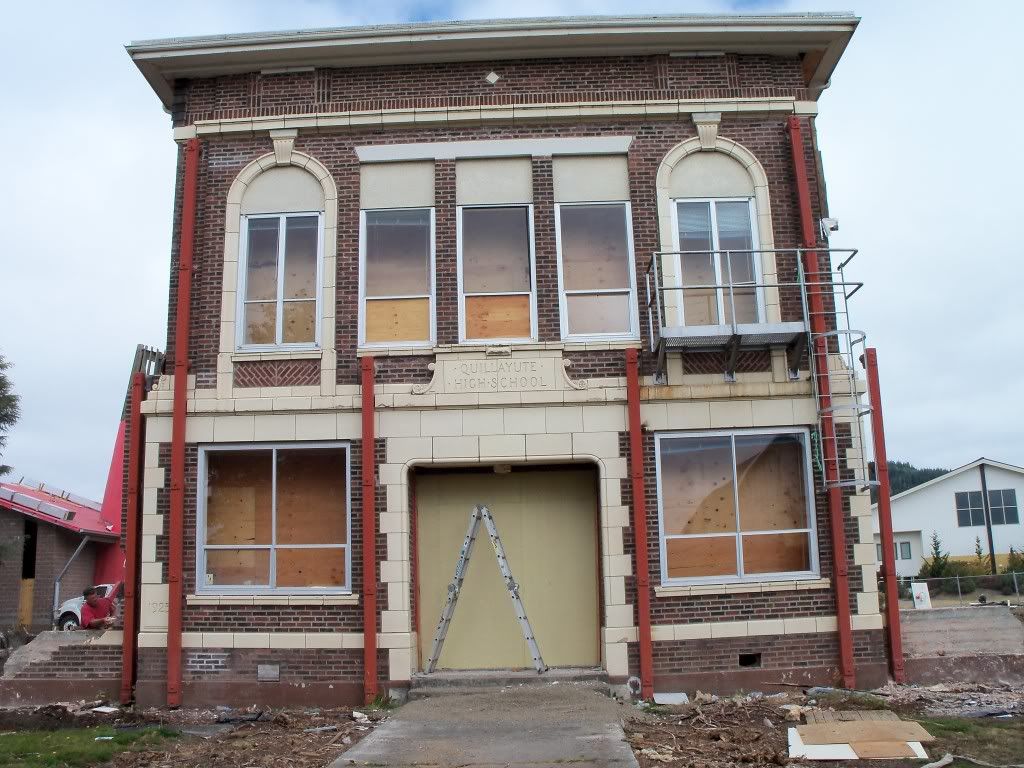 Bella's house. While we were here taking pics the owners were inside taking pics of us. LOL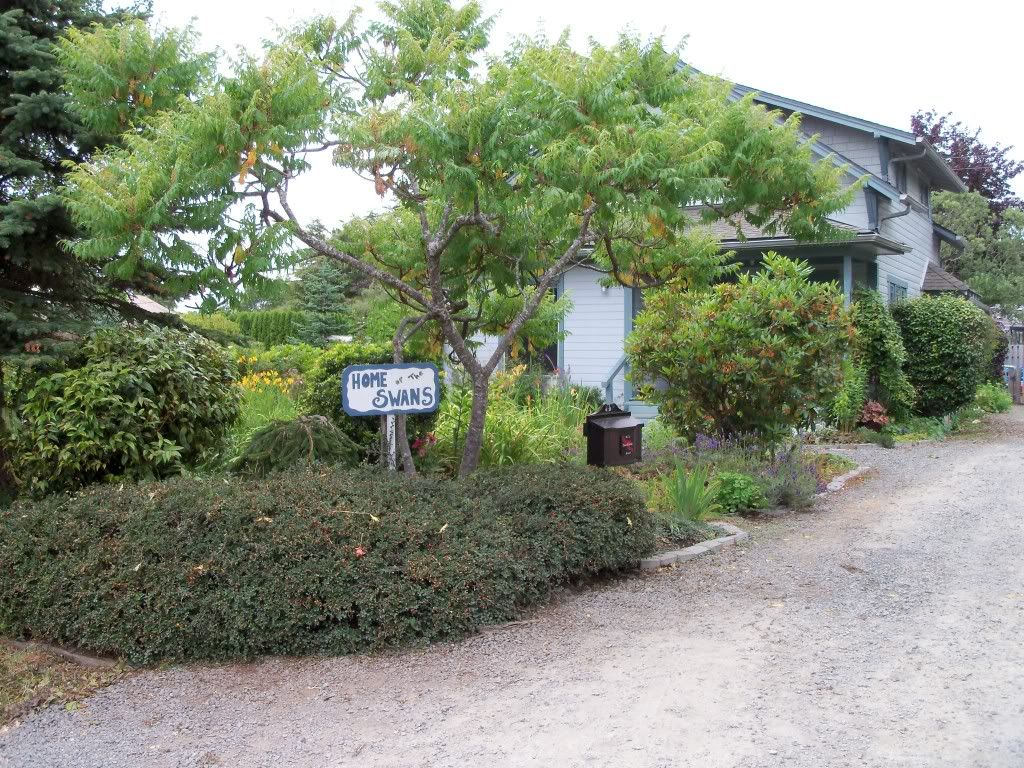 Bella's place of employment.
Mini meadow!!!! Okay...we were laying in a bunch of clover but it was our own meadow. :)
The Cullen house. This place is GORGEOUS!!!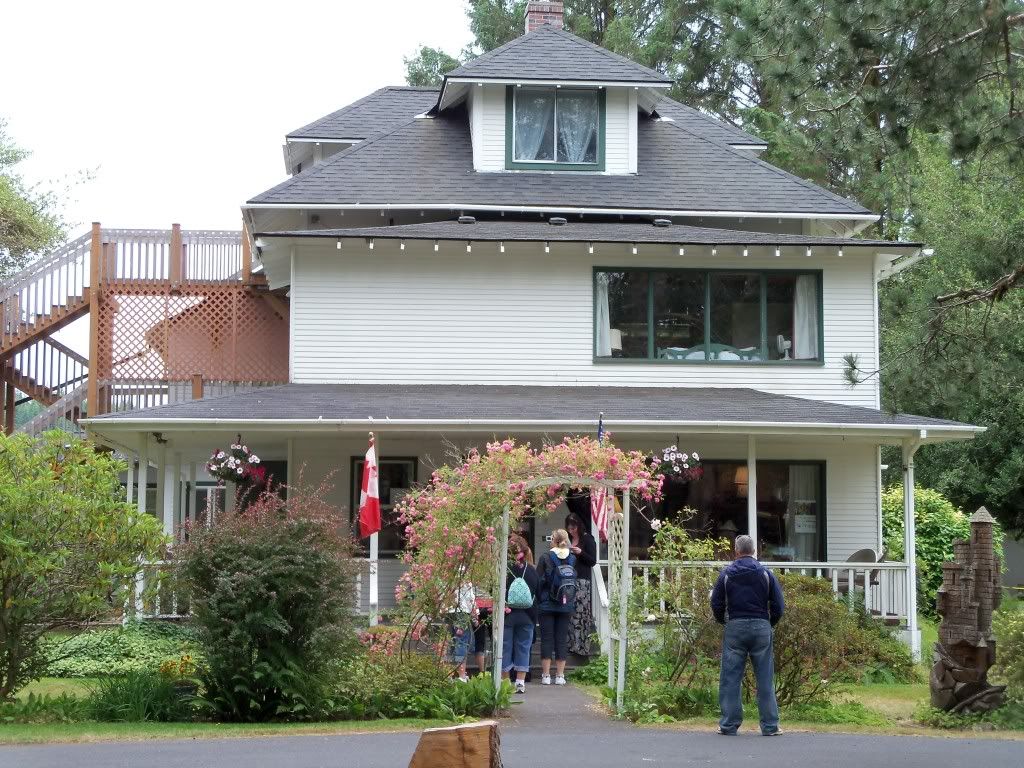 First Beach at La Push. I have fallen in love with this beach and to be honest...it kicks Cannon Beach's ass all over the place.
Me and Rhonda at First Beach. I love this woman!!! She is one of the most amazing people I have been blessed to know. :)
Sitting or leaning on Bella's truck.
Need I say why I have this photo? ;)
Me and Rhonda
Kristin loves me. :) I love her too though so it's okay.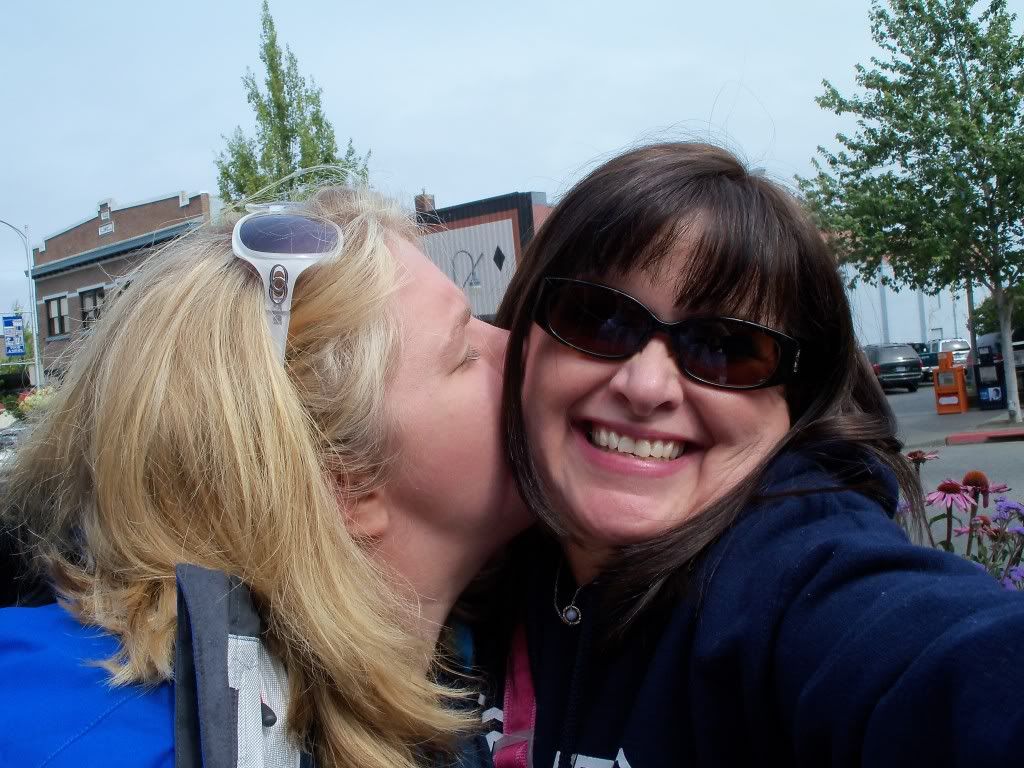 All Twilight fans...do NOT eat at Bella Italia unless you are craving poor service and mediocre food. You have been warned.
We went to a Mariners game the night before we set sail and the game was boring beyond comprehension. The only excitement was the 300 section full of Twilighters. Here are some pics though.
Alice and Edward were there? Really!!! ;)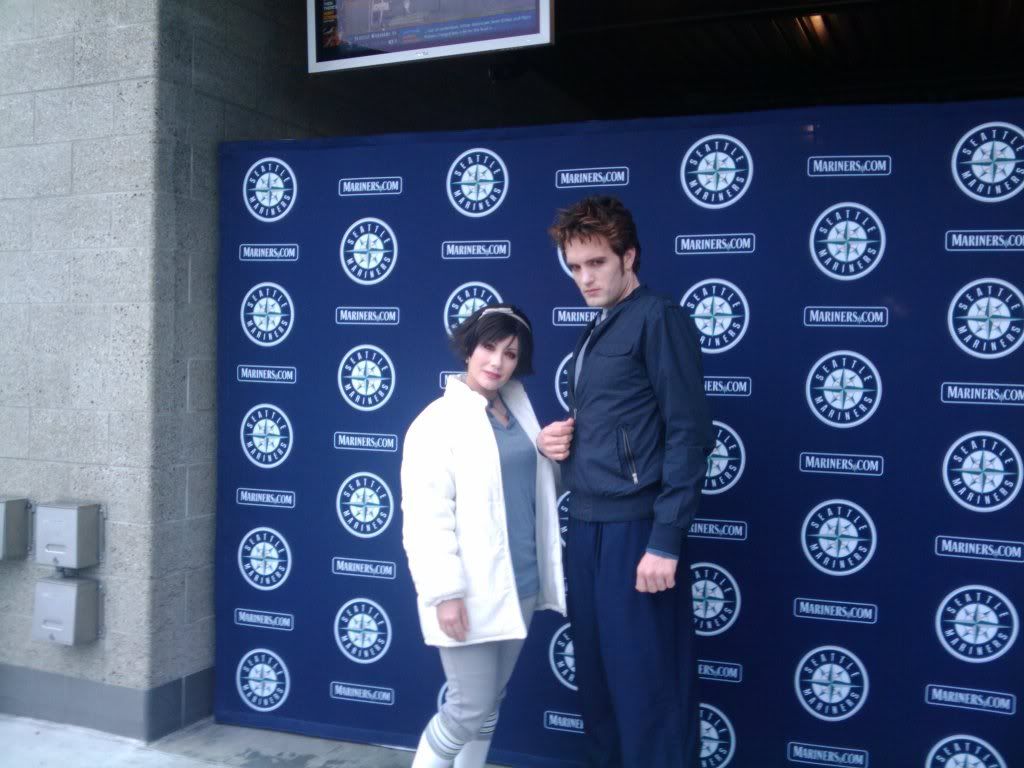 Me, Alice and Edward. Oh...Alice is also holding Pocket Edward. Pocket Edward went everywhere with us!
My crazy, outrageous, fun and loving friends!!!
With the Cougar Family. I love them muchly. :) I am boring as hell compared to Mama Cougar. Mary is hilarious!!!
Sandy is as crazy as I am about the saga. We commissioned someone in Canada to create a Renesmee doll for us. Yes...we are that obsessed.
Words fail me as to the reaction when we finally met face to face. For some reason Mary thinks I'm crazy. ;)
This luggage is for only 4 people. It was sad to look at.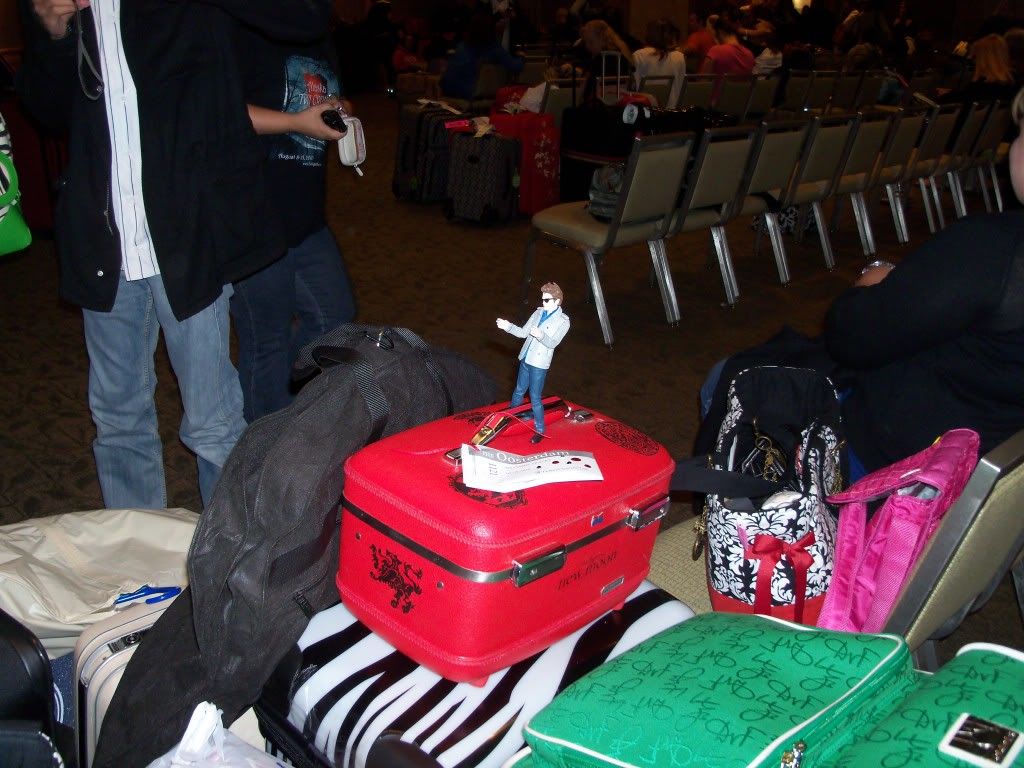 80's karaoke night. Kristin was Madonna. Can ya tell? Right down to the "Boy Toy" belt buckle.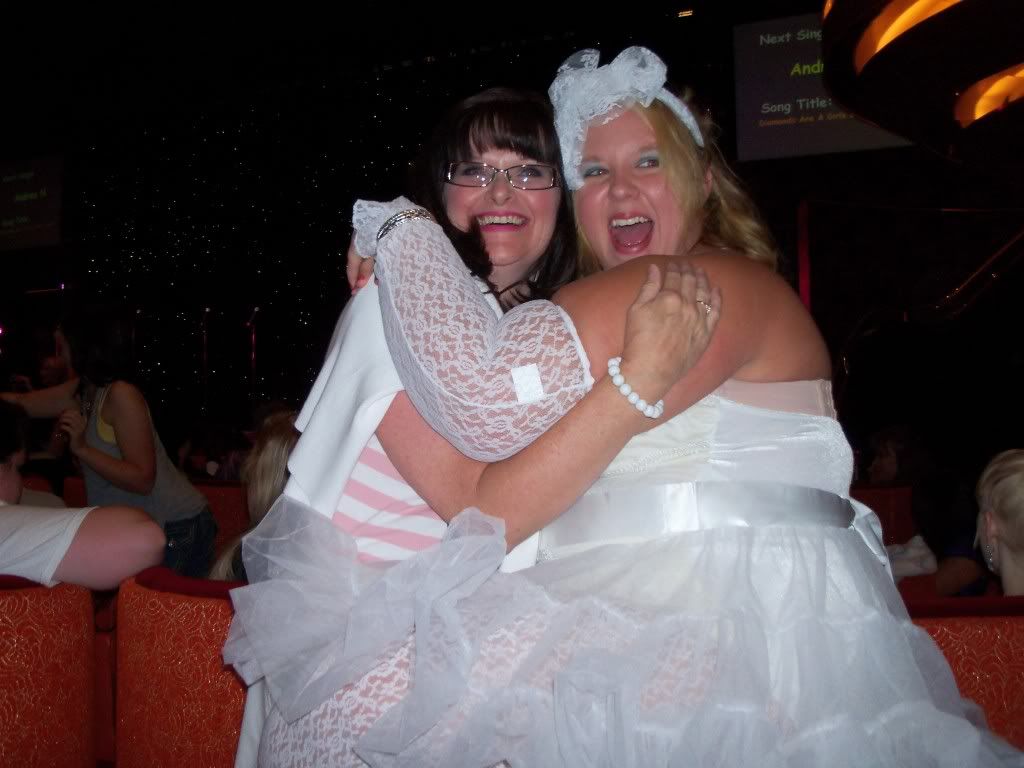 Uptown girls!!! I didn't sing. See me on the left? I was a backup dancer. LOL
Partying after 80's partying. :)
Courtney!!! Love this girl so much!!!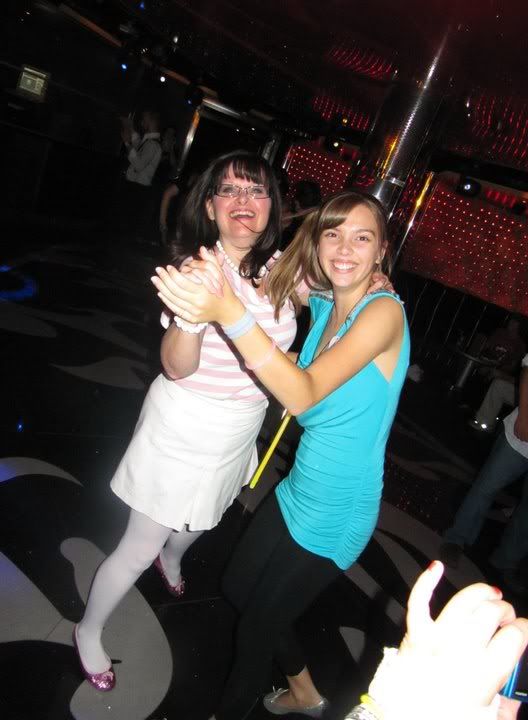 It was not a drunken boo-boo but trying to sit down and getting my good caught on a sign. It scarred. I have a forever memory in my leg now.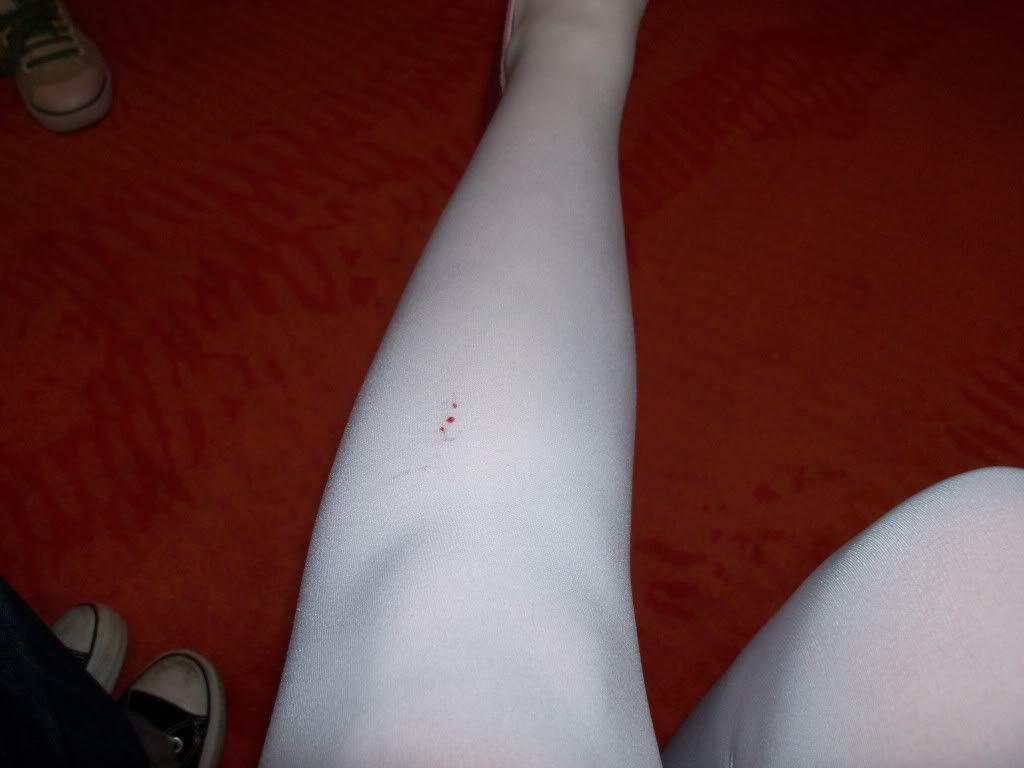 This picture makes me giggle. We were in the Crow's Nest and the boat rocked. When that happened all 7 of us rocked at the same time. That is the reason for the big smiles. Everyone who was watching started laughing at us. Too fun. :)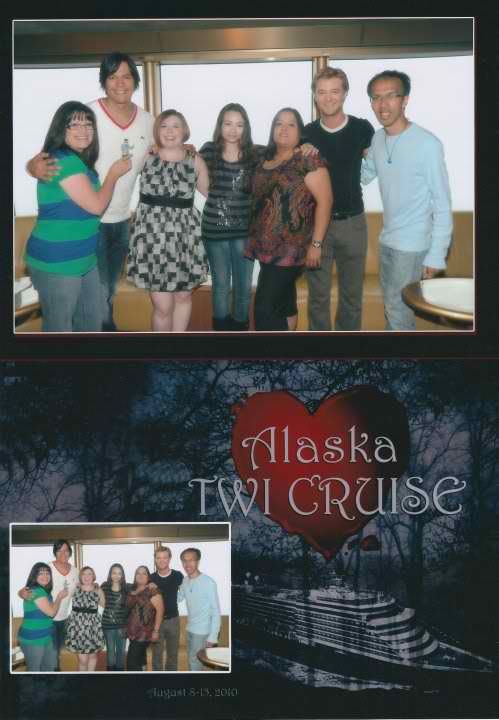 My beautiful Irish friend, Ciara. Yes...we were both unsober. ;)
Me, Alex and Jaime at the costume ball. Free drinks all night!!!
Absolutely NOTHING made me laugh harder than this. It was during the Jeopardy game. This picture was the answer. The question was "Who is Rosalie Hale?". It was one of those "had to be there" moments. Anyone who was there will laugh at this picture. :)
Mike Welch was the emcee for Family Feud. The man is hilarious!!!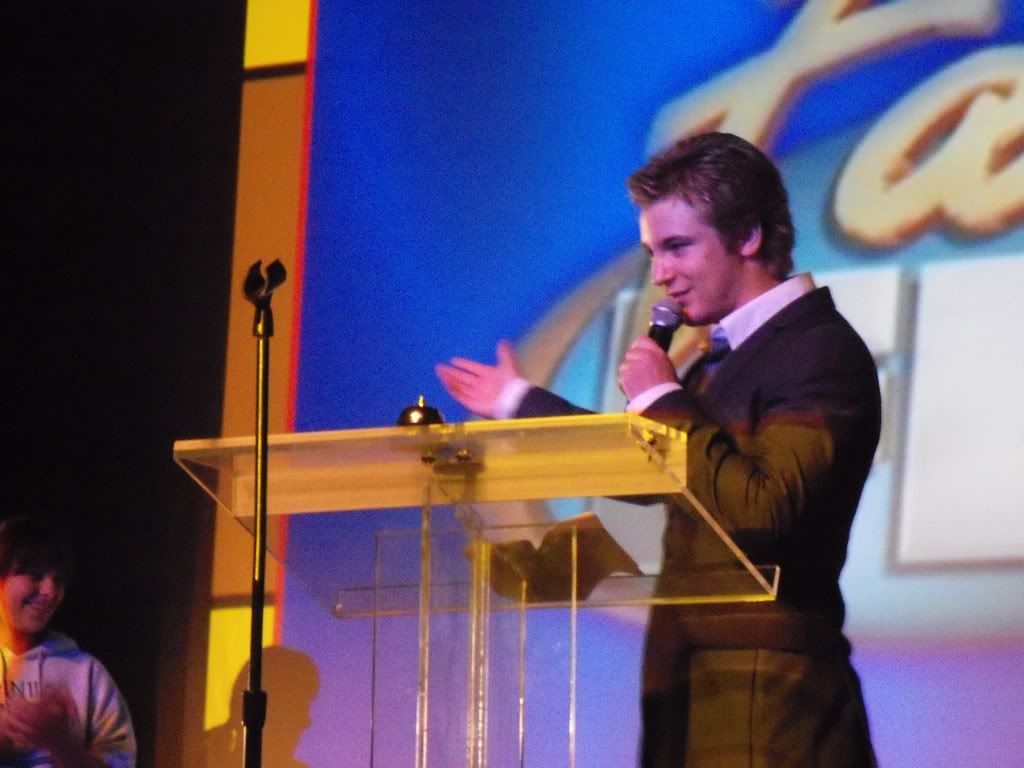 Jodelle Ferland is a doll and such a sweetie. :)
Glacier bay!!! See Pocket Edward? He loved it too.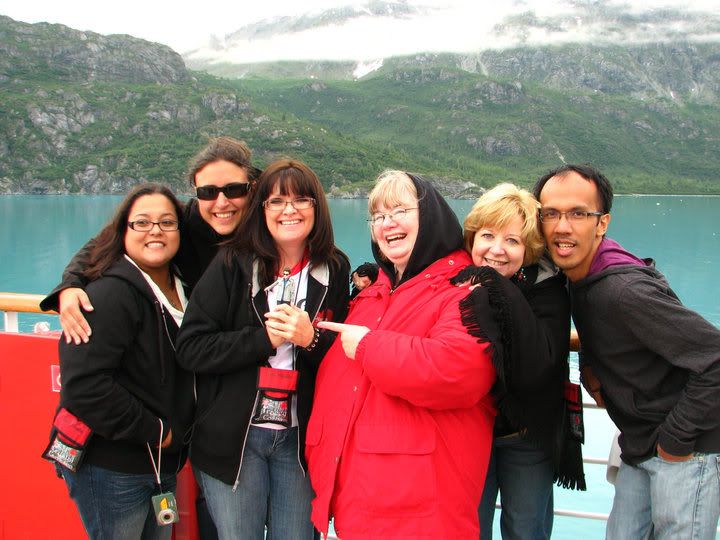 Rhonda and me with a Quileute storyteller. He was such a nice man. Oh!!! See the wine Rhonda and I are drinking? Mulled wine my friends. Warm and oh so tasty. :)
Look at the water!!! It was gorgeous!!
We created junk food junkies. Gary is from Holland and Adine is from New Zealand. They don't have Hostess treats where they live.
Mendenhall glacier. It was gorgeous beyond any imagination.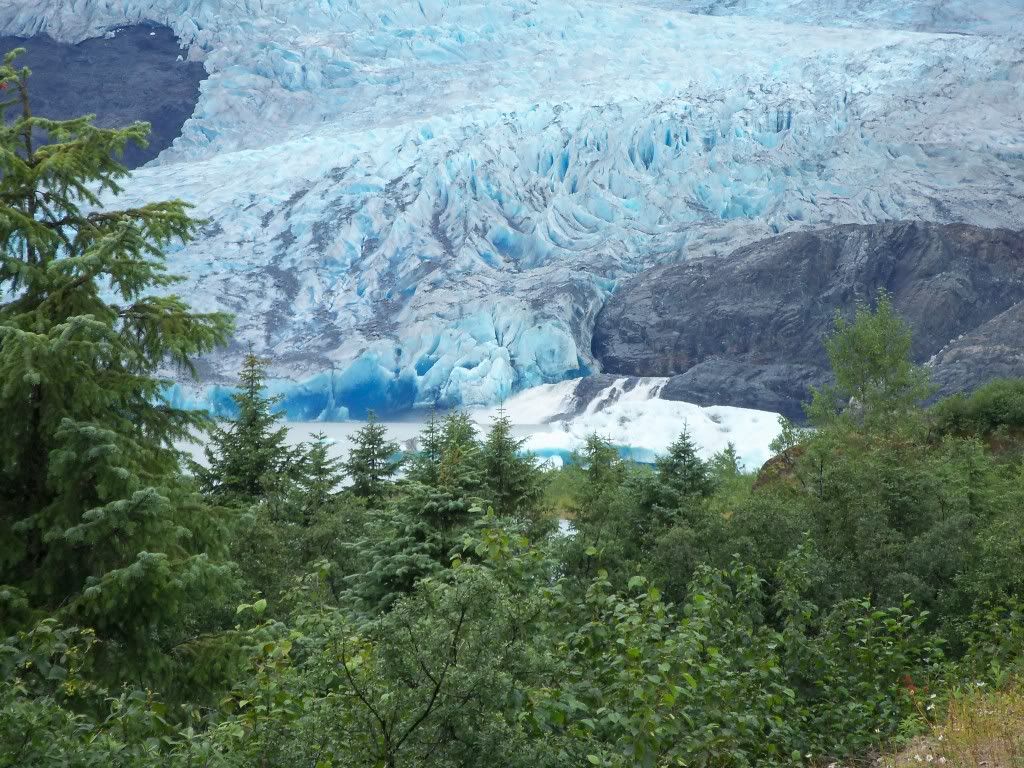 First formal dinner night. :)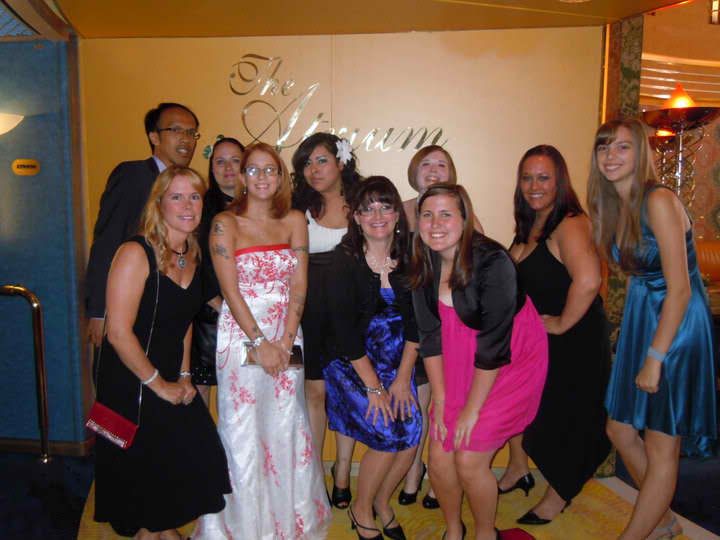 No explanation needed.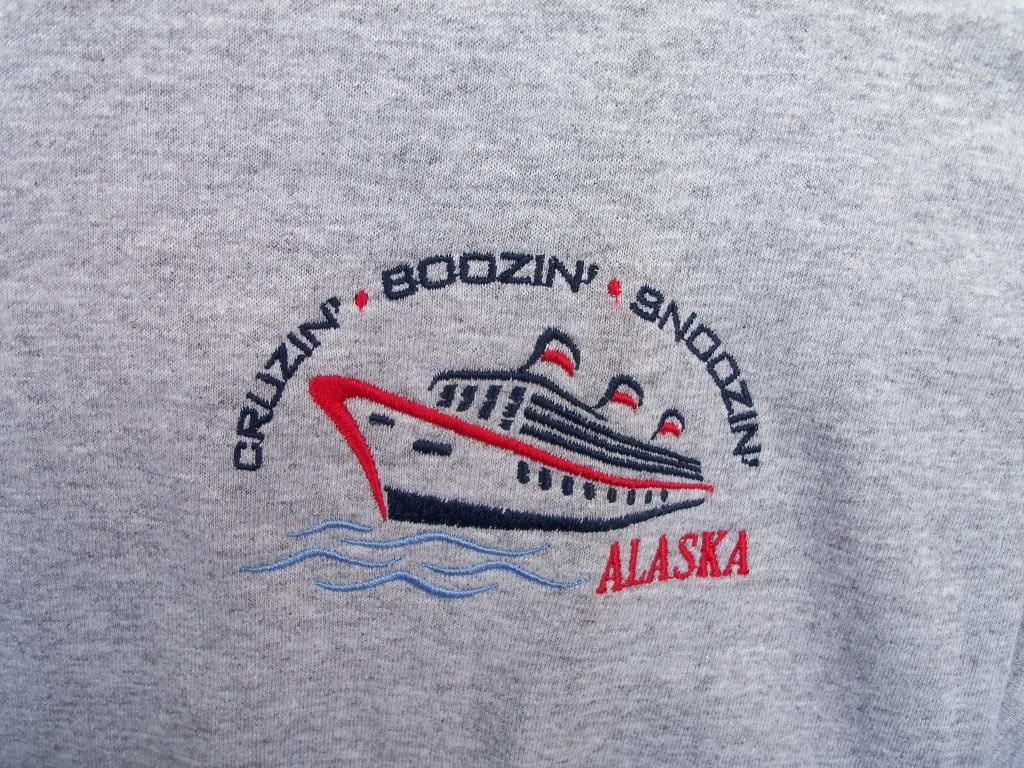 Sitka was gorgeous when we were there. Blue sky all day and warm.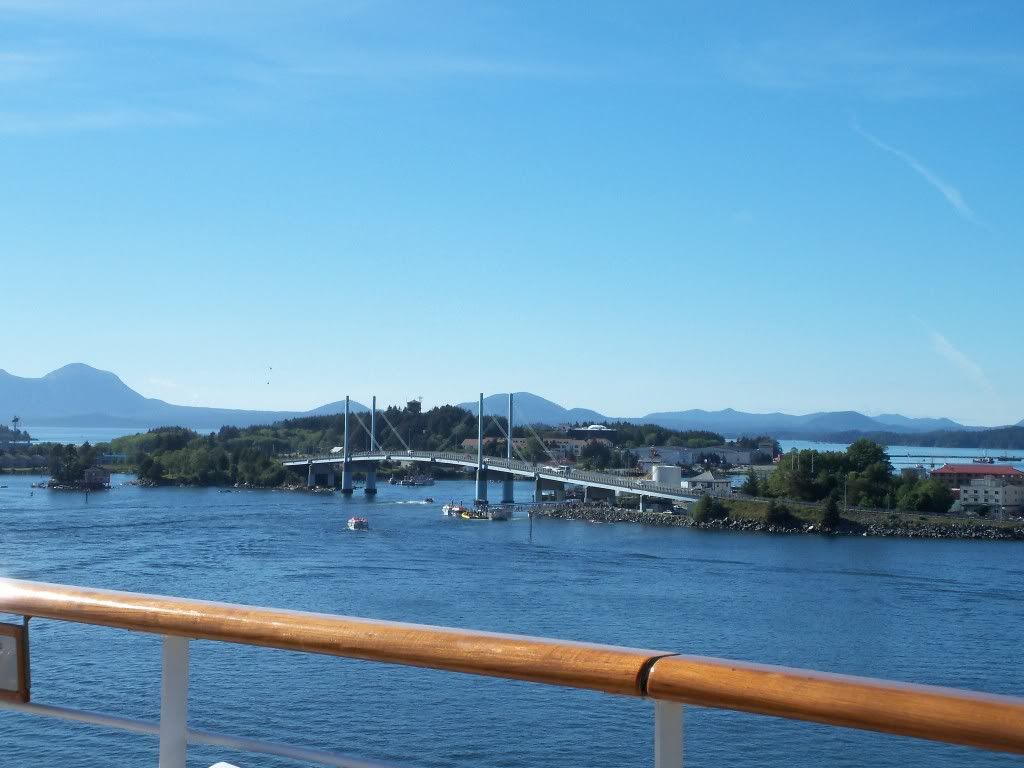 My family. I love them so much. This was our last night on board. *tear*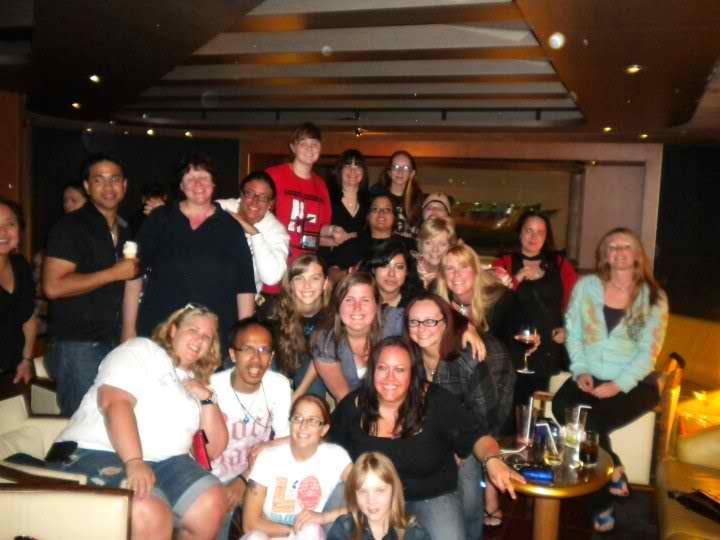 Liz. LOL
Gorgeous brunettes.
Me and Charlene. Don't ask why the tongue thing. I don't know.
Liz and Charlene and the tongue thing again.
Charlene and Rhonda. See? Tongues. We are nuts. ;)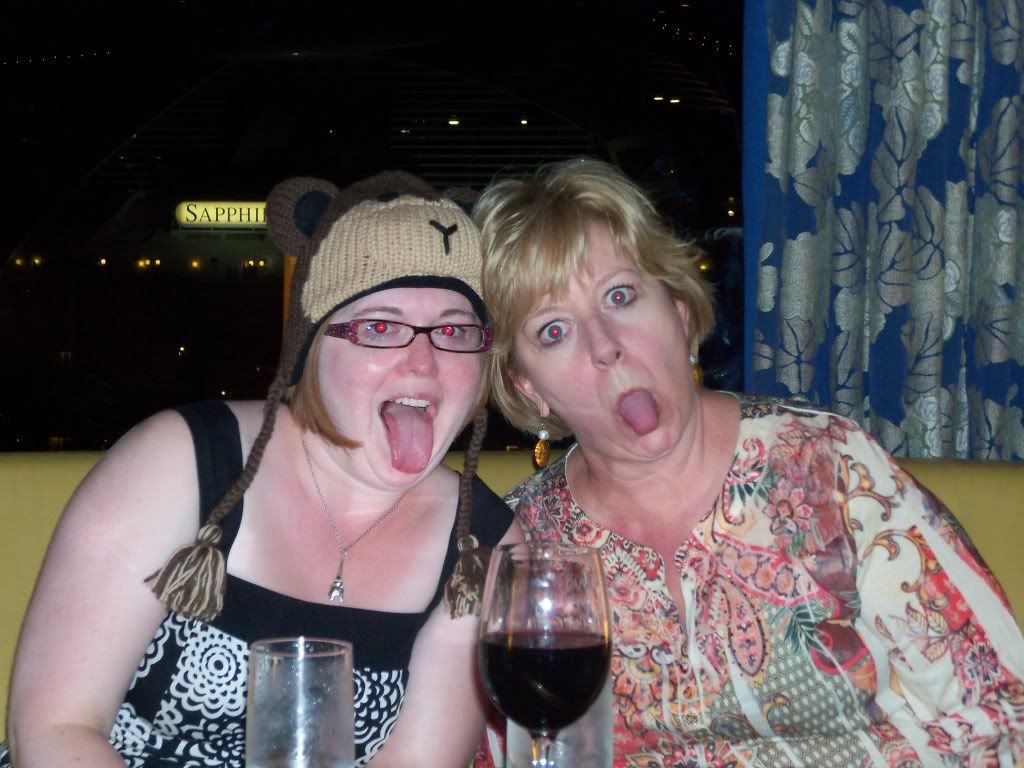 Sadly...the cruise had to end. Happily...I've put down the deposit for next year's cruise.
http://twicruise.com/
More memories. More time with my Twi-family. More living my life instead of existing in it. :)